Press
Sugar Sammy a huge hit at Caroline's on Broadway
2019-02-26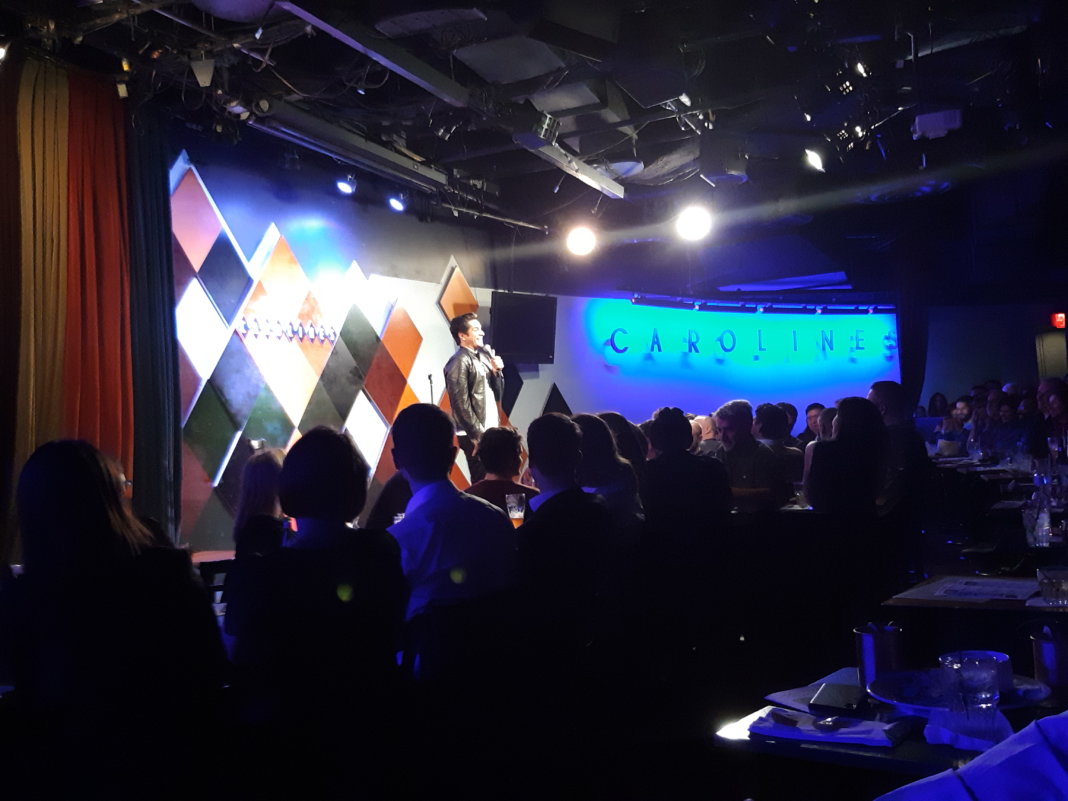 NEW YORK – Raconteur. Provocateur. Riff-master. Call him what you may, but Samir Khullar, aka Sugar Sammy, as the hugely talented Indo-Canadian standup comedian is popularly known the world over, will not put you to sleep with gentle fireside chat stories, especially if you are within earshot or eyesight of him in a comedy club.
In fact, Sammy's modus operandi – which was on regal display at Caroline's on Broadway, last week – is to engage and joust with the audience through most of his show, creating classic improv humor, drawing out regular guffaws.
One is left to wonder after Sammy's blitzkrieg of multilingual raillery – at the expense of his sometimes squirming audience, caught off-guard as he pounced mercilessly on them intermittently – as to who is having more fun tonight. Is it the audience, or is it Sammy himself?
Sammy, son of Indian immigrants, who is fluent in English, French (he grew up in Montreal, Quebec), Punjabi and Hindi, during the course of his act in New York, also effortlessly wove in personal anecdotes with high class political barbs.
A consummate master of cultural and linguistic absurdities, and fixations, Sammy in his act quickly drew the audience into his world of jocular immoderation. It left the prudish and the libertarian in the audience often in splits of laughter. Targets of his attack took it gracefully, with a wry smile, and forced laughter. For the rest of the crowd, it was delicious stuff.
A special target of Sammy's during the course of the evening in New York was a group of young Canadians, who work for the United Nations. Fortunately, or unfortunately for them, they were seated close to the stage; became prime targets of his vicarious punches of humor.
By the end of the show, after Sammy berated the bunch for doing "nothing" at all as work, relegating the UN to be a total waste of taxpayer money, unimportant and insignificant in resolving geopolitical issues – all with his nonchalant, joyous demeanor, the group probably were left ruminating as to whether they chose the right entertainment for the evening, or were better off calculating their career choices in a bar somewhere else in town.
A Frenchman, who turned out to be an engineer, was told bluntly that he had stolen an Indian's job. Sammy scouted the audience for an Indian doctor, but to his great disappointment, there was none that night. An Indian who stated he was a startup founder, was termed as a "fraud".
Sammy didn't talk much on Trump, except to comment on the politics of the 'wall', a favorite subject of his. He explained why Canada doesn't need a wall to keep out Latinos: "It's too cold. We don't need a wall. We have winter."
According to The New York Times, which did a story on Sammy in August of last year, Sammy has performed in 31 countries, including Switzerland, Malaysia, India and France, where GQ enthused that "the funniest person in France is Québécois." He has reportedly done more than 1,600 shows globally.
Sammy was the first artist chosen by Comedy Central India to tour, visiting Mumbai, Bangalore and Delhi in March 2013 with his English/Hindi/Punjabi comedy show, according to Wikipedia.
Sammy's "humor was deeply informed by being the son of immigrants", noted the Times. His father sold juice out of the back of a truck before opening two convenience stores. His mother worked in a textile factory before eventually staying at home to raise the family. Growing up in a basement apartment in Côte-des-Neiges, a gritty multicultural neighborhood in Montreal, he worked as a cashier at his father's shops, which sold beef jerky and cigarettes and were called "Au Gourmet International."
He was inspired to become a comedian after he first saw Eddie Murphy's 1983 stand-up comedy television special "Delirious" as a teenager and was attracted by his raw, unbridled humor, said the Times piece.
Sammy's stage name was taken from the nickname his female friends had given him when he was a party promoter while studying at McGill University, and often let them into parties.
His international TV credits include his own one-hour TV special on Showtime Arabia entitled, Sugar Sammy Live in Dubai, which aired in 14 countries; headlining two TV shows for Showtime, Minority Rules and Friday Night Live; and appearances on CBC, Comedy Now on CTV, The Comedy Network (Canada), The Comedy Channel (Australia), and Dutch TV, according to his website.
He is also one of the judges on the reality TV show 'La France a un Incroyable Talent', the French equivalent of 'America's Got Talent'.
Despite controversial humor which targets often French-speaking Quebec in most of his shows, Sammy is one of the top comedians in Canada. He was the first English-language comedian to be honored at Quebec's prestigious Olivier comedy awards, winning the Olivier for Best Show and Comedian of the Year in May 2013. He received the title of Comedian of the Year in 2014. Hollywood Reporter selected him as one of their "Ten Comics to Watch" around the world.
PHOTO: Sujeet Rajan