TV SERIES
---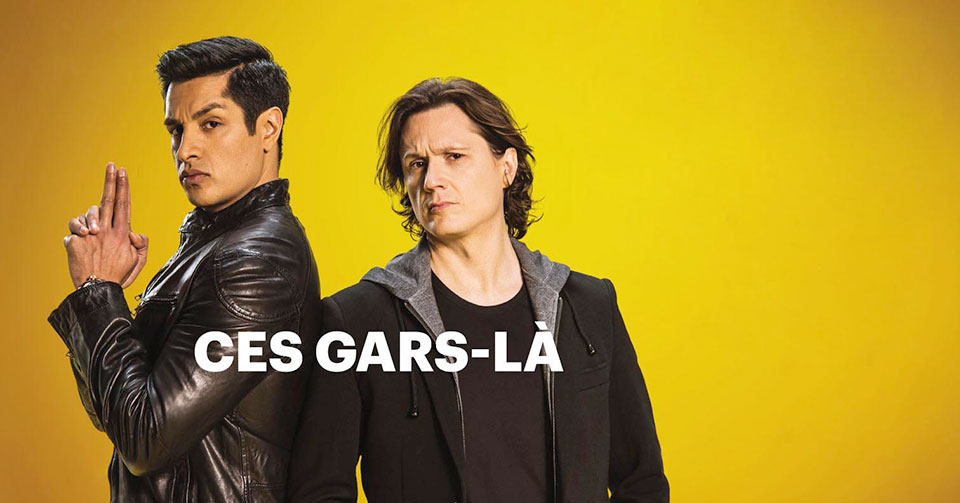 Ces gars-là, broadcast in Canada from 2014 to 2016 on V television network.
REPLAY of the 3 seasons on CRAVE from May 6, 2020
Ces gars-là (Those Guys, english title) is a TV series that bridges the barrier between funny and dramatic story telling, Starring bilingual comedian Sugar Sammy and director Simon Olivier Fecteau. This modern buddy comedy takes you into the world of two friends, Sam and Simon, whose intrinsic differences spice up their friendship and set up a variety of adventures for the odd couple. The show is inspired by the lives of the two writer-comedians and follows them through their quest for love, their relationships with their families and how they navigate the highs and lows of their own friendship. Their absurd experiences emerge as the two stars attempt to live life with the best intentions while reflecting on life in their somewhat trivial, somehow profound, but always-hilarious philosophy, in similar vein of The Office, Curb Your Enthusiasm and the Wedding Crashers.
Over 10 x 30 minute episodes per season[s], the viewer experiences the raw and uncensored view of the world that 'those guys' inhabit. They could live anywhere and speak any language. They could be your neighbours down the hall or across the street. Their stories are universal, interchangeable and easily adaptable to any culture or place in the world. For all inquiries relating to the production, please contact us.
Based on an original idea by Sugar Sammy, the series was directed by Simon Olivier Fecteau and co- written by the two stars, along with their mutual friend, India Desjardins.