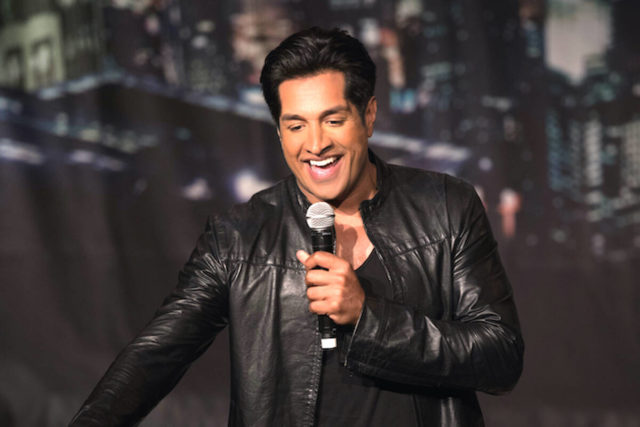 10 funny things about comedian Sugar Sammy, who'll fill a Surrey theatre this week
2023-02-10
Canadian comedian Sugar Sammy is back touring the country and returns to Surrey this week, at Bell Performing Arts Centre on the night of Friday, Feb. 17, 7 p.m. start.
The 1,000-seat show is pretty much sold-out, judging by the theatre's online seating map. He's also booked to perform two shows at Vancouver Playhouse on Saturday, Feb. 18.
So what makes Sugar Sammy so funny (and apparently popular)? Find out why in this list of 10 funny, odd and interesting things about the not-so-sweet comedian.
He's a Leap Day Baby, born on Feb. 29, 1976, nearly 47 years ago. "We're way more special than most of the population, right out of the gate," he joked in a phone interview with a fellow "Leapie," Now-Leader reporter Tom Zillich.
He's quadrilingual. Sugar Sammy has done more than 1,900 shows in mostly English and French, and also in Hindi and Punjabi, making him an international ambassador of humour. In Quebec's largest city, he grew up in an English- and Punjabi-speaking home while attending French schools.
His real name is Samir Khullar, and was raised in the Côte-des-Neiges neighbourhood of Montreal.
His first job was working in his parents' convenience store. "I was eight or nine years old when I started working there," Sammy recalled, "and my parents didn't like to hire babysitters, so we just worked, you know. I was definitely exposed to a lot as a kid, in terms of business and social life, and my dad loved talking to people. I'd watch the customers and listen to the radio tons. It wasn't a normal upbringing but it definitely served me well. I learned about work ethnic and socializing pretty early on."

Watching Eddie Murphy's landmark "Delirious" comedy movie influenced the young Sammy. "I was nine years old or something," he says. "I saw that a couple years after it came out, and that was it, I wasn't going to do anything else. I didn't want to do anything else, but it's something I wanted to do, comedy, and have been doing it full-time for the last, oh, 18 years."
His comedy mixes observational with improv, touching on race, sex, pop culture, Indian-Canadian life and more. "There is observational comedy and socio-political stuff," he says. "My life has evolved and my point of view has changed, so you'll see a lot of that on this tour, the show in Surrey, but it's still a great big party."
In addition to touring, he has a regular gig on French television, as a judge on "La France a un Incroyable talent," the country's version of "America's Got Talent," broadcast on one France's biggest networks.
He welcomed the pandemic in early 2020. Well, sort of. "This is the first tour of Canada since the pandemic, and the last one we did was in the fall of 2019, so a couple months before the lockdown and no shows happened," Sammy recalled. "Before the pandemic it was just going nuts, doing tours in a couple of languages, in Canada, the U.S., France, two TV shows. So when the pandemic hit I was one of the rare ones who liked the time off. It was a time to reassess my work, audit my work. During that time off, it was a good time to give an honest overview of what I was doing, where I'm at and if I could do better. So I spent a couple years working on that, getting out of my patterns and making sure I was still surprising my audience."
He's not afraid of getting "cancelled" with comedy that can veer into politically-incorrect territory. "Because I'm in charge of my career, produce my own tours, there's nothing really to cancel," Sammy says. "What are you going to cancel, my P.O. box? I'm not really looking to do any more TV than I've done already, and it's kind of hard to cancel a standup comic. Most of the time it's someone cancelled from a TV show or something, a job where they're employed, but I'm self-employed, pretty much. The only person who can cancel me is me."
He's quite happy touring as a "one-man show," wherever the comedy road takes him. "Unlike TV, there's no regulatory board that says you can or can't say something, no appeasing the advertisers, no rules about not making fun of that person or that company, you know. It's really a one-man show where I write everything and perform it, and that's what I love. There are upsides and downsides, where if you goes badly you get all the crap but if it goes well, it's all you."